Nate Rhoades, pictured on a backpacking trip in the Sierras, had a unique gift of supporting and encouraging his friends who were struggling with difficult life challenges, according to his family.
The family of a young man who recovered from drug addiction and then helped others in their recovery is carrying on his legacy.
"Nate's Place, A Wellness and Recovery Center," is a nonprofit named for Nate Rhoades, a Nordhoff High Schol graduate who grew up in Ojai and passed away in January at the age of 21 following a traffic accident.
The young man's organs were donated, saving the lives of several transplant recipients.
Nate's Place will address the needs of at-risk teens and young adults ages 13 to 25 by providing a clubhouse with recreational activities, and staff to support them on their journey to recovery. "We're hiring and training peer recovery coaches, adults who have some recovery under their belt, and they're going to be mentors and a support system to clients in need," Nate's mother, Heidi Rhoades, told the Ojai Valley News.
Addicted to drugs when he was 14, Nate was sent to a substance abuse treatment center, and later overcame his addiction through residential and outpatient treatment, counseling and 12-step meetings.
But the key element in Nate's recovery was Kyle Smith, a peer support recovery coach hired by the family. "He basically showed Nate that you can have a really fun, good life without using drugs," said Heidi.
Smith spent three or four days a week with Nate, introducing him to weightlifting and teaching him to play guitar, while living clean and sober. "That was the key," said Heidi. "How do you re-integrate back into the community, especially as a teenager or young adult, when drugs and alcohol are so ever-present?"
Nate threw himself into his recovery, becoming a defensive MVP for the Nordhoff Rangers football team and, later, a certified personal fitness trainer at Gold's Gym.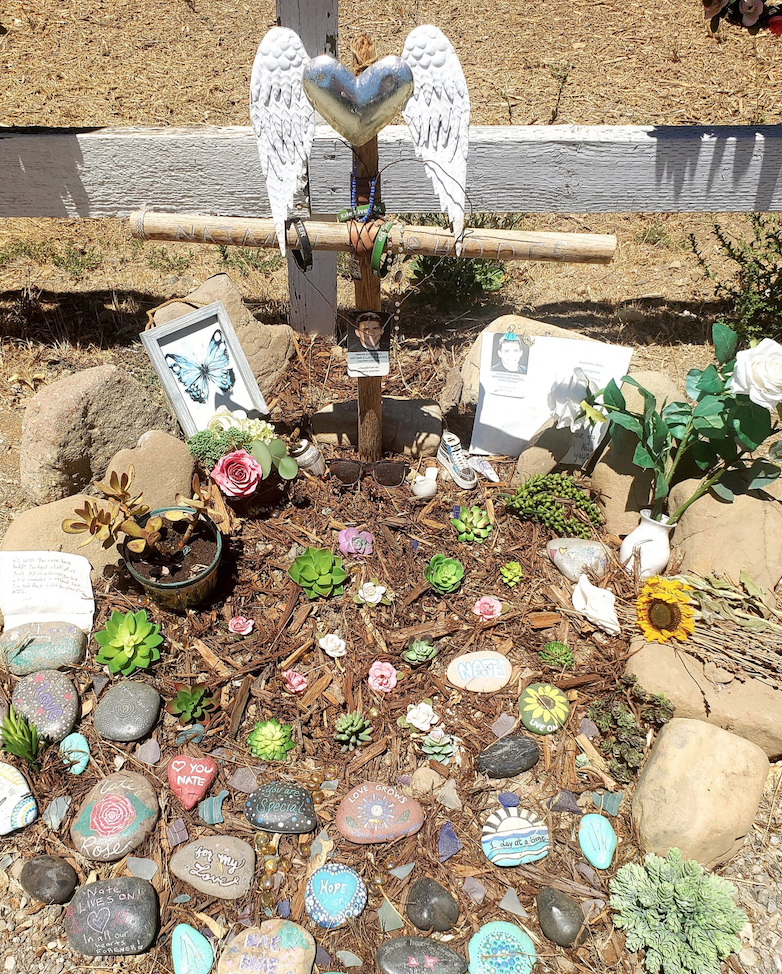 And like his mentor, Nate became a role model for other young people facing challenges or going through recovery, encouraging and supporting them and saying things like, "You are enough … Don't give up."
"It's been such a heartbreaking loss for us that we decided to carry on what Nate was doing, quietly," said his mother.
Along with peer recovery coaching, Nate's Place will offer healthy alternative activities in a recreational setting, including boxing, weightlifting, pool, ping-pong, kayaking, hiking, meditation, art therapy and music lessons. "Things that Nate got into that really made an enormous difference in his recovery. It was an alternative to doing drugs," said Larry Rhoades, Nate's father.
Another motivation for founding Nate's Place, according to Heidi, is the wide gap in after-care services in Ventura County for young people in recovery. "And especially that would take Medi-Cal and be low-cost," she said.
Up and running with nonprofit status and fundraising platforms, the Rhoades have found a potential home for Nate's Place. "We have our eye on a building in Oxnard," said Heidi. "It's just the perfect building."
Nate's Place has secured a grant writer and is applying for a number of grants. A few weeks ago, it received its first significant donation of $10,000. "We're making incredible progress, but we're really having to push for fundraising," said Heidi.
A fundraising concert at Ojai Valley Community Stadium at Nordhoff High School, set for Sunday, Sept. 25, at 3 p.m. will include performances by Kyle Smith, who fronts a reggae-rock band, and friends Kainoa Reyes and Emily Hahn, who both wrote songs in remembrance of Nate. (Those songs can be heard at https://bit.ly/3yXPtfp and https://bit.ly/3oobpLL, respectively.)
The company OneLegacy, through which Nate's organs were donated, plans to have a booth at the concert where they'll encourage drivers to check off the organ donation box when renewing their driver's license.
Another fundraiser tentatively set for early September in Port Hueneme is a pickleball tournament hosted by former professional tennis player Stacy Potter of Ojai, who has won four gold medals in pickleball.
According to the Rhoades, wellness centers are being planned at Nordhoff High School and in the Oxnard Unified School District. Larry and Heidi are considering purchasing a van to shuttle students to Nate's Place a couple times a week.
Nate's Place has two fundraising platforms for tax-deductible donations, GoFundMe and Betterworld.
A website will be launching soon. For more information on Nate's Place, email: